Minimally Invasive (Keyhole) Spine Surgery
Minimal invasive spinal surgery has been performed for at least 30 years. In the past, "keyhole" spinal surgery included only micro-discectomies, foraminotomies, to release or de-compress the nerve impingement.
With the recent development of new instrumentation, keyhole spinal surgery now embraces posterior spinal fusion and anterior spinal fusion with vertebral body replacement for the correction of deformity. The advantage of "keyhole" surgery is less soft tissue dissection, less bleeding, lower complication rates, less post-operative pain and shorter hospital stay. Keyhole surgery also has the added benefit of reduced scarring and minimised risk of infection.
In addition to routine keyhole micro-discectomy and foraminotomy surgery, Mr Ton has also performed complex spinal surgery with the keyhole techniques.
Paget's disease was causing spinal cord and nerve compression causing pain and discomfort for the patient. Surgery was performed by Mr Ton for anterior spinal decompression and vertebral replacement for Paget's disease of the spine. All this was performed through a 4cm incision on the left side of the abdomen, relieving the pressure from the spinal cord and nerve.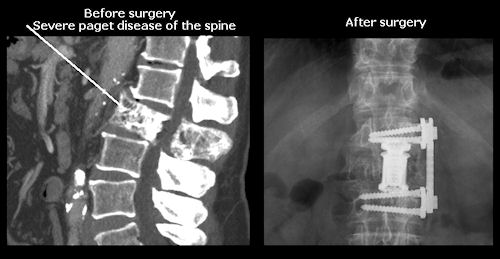 A case of complex sagittal mis-alignment of the spine and neural compression. The L5 vertebral body had slipped forward into the pelvis. This caused pain in the lower back due to instability and pain in the lower legs from compressing the nerve root on the sides with sciatica.
This was corrected by keyhole transforaminal lumbar interbody fusion (TLIF). This was performed via 2 incisions, each 2.5 cm long. The L5 vertebral body has been pulled back to normal alignment.